New book alert!
April 26, 2017
We always try to ensure we include the latest and greatest books fitting each year's theme on our list of recommended reads, but we usually have to make early March the publication date cut-off point, to ensure you all have time to acquire these new titles before summer. Inevitably this means that a perfect book will be published soon after that cut-off point! We saw this last year with Finding Wild. This year, Owlkids Books shared a copy of My Canada: An Illustrated Atlas with us, and we knew immediately that we had to share it all with you!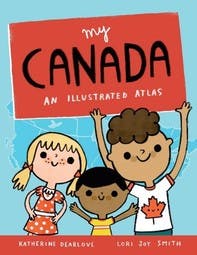 Written by Katherine Dearlove, illustrated by Lori Joy Smith.
Publication Date: May 15, 2017
"This picture book atlas of Canada is a whimsical, informative introduction to our country from sea to sea to sea. Each province and territory is featured on its own spread, with icons and labels indicating the capital city, other major cities, key lakes and rivers, iconic landmarks, animals and plants, significant national and provincial parks, and more. Each map is lively and colourful with plenty of details to discover." – Owlkids Books press release
We're sure this will make a great addition to your TD Summer Reading Club book displays in 2017!