2017 English Top Recommended Reads, Part 1
January 10, 2017
My Heart Fills With Happiness
by Monique Gray Smith and Julie Flett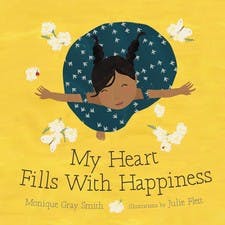 Orca Book Publishers
2016
ISBN: 9781459809574
Ages 0-5
"Beautiful illustrations show that simple pleasures like fresh-baked bannock and walking barefoot through grass can fill us with joy."
This board book will appeal to readers of all ages, including infants, and makes for a great read-aloud. We were charmed by the sweet story and soft earth tones that beautifully illustrate indigenous culture. It will bring joy to the reader and inspire kids to describe their own stories about happiness.
The Great Antonio
by Elise Gravel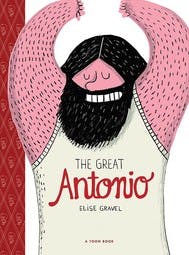 TOON Books
2016
ISBN: 9781943145089
Ages 6-9
"He wrestled a bear, ate 25 chickens in one sitting, and pulled trains with his hair! Who was The Great Antonio?"
Elise Gravel's trademark tongue-in-cheek whimsy brings to life this story of a modern-day, Canadian folk hero. The graphic book format allows her to use larger-than-life details to tell the true story of a larger-than-life person. Have fun trying to separate truth from exaggeration in this tall tale, then create one of your own!
Stepping Stones: A Refugee Family's Journey
by Margriet Ruurs and Nizar Ali Badr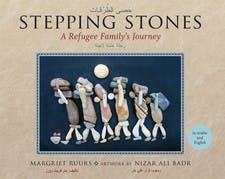 Orca Book Publishers
2016
ISBN: 9781459814905
Ages 6-10
"Ordinary stones tell beautiful stories about the difficulties of families leaving an old home behind for a new one."
The back story of how this book came to be is just as beautiful as the book itself. Featuring poems (in both English and Arabic) and photographs of intricate stone compositions that tell a story of Syrian refugees, Stepping Stones is sure to spark many conversations.
Mingan, My Village: Poems by Innu Schoolchildren
by Innu school children and Rogé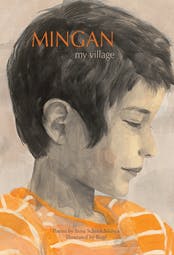 Fifth House
2014
ISBN: 9781927083246
Ages 9-12
"Through sketches and poetry, Innu kids share their experiences and connections with the world they live in."
The thoughtful poems of the Innu school children alongside the portrait drawings by Rogé are such a breath of fresh air! It really struck us how insightful, hopeful, and full of wonderment kids can be. This book is also a good reminder that poetry and drawing are great, simple and expressive activities to do with kids.
A Boy Named Queen
by Sara Cassidy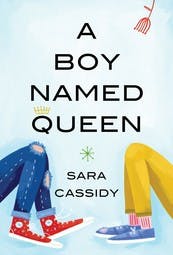 Groundwood Books
2016
ISBN: 9781554989058
Ages 8-11
"A powerful and gentle story about an unlikely friendship between Evelyn and the new kid at school, Queen."
This short story will appeal to a wide range of readers and is a great pick for kids in the middle grades. We love the expressive, beautiful writing and following Evelyn and Queen's friendship as it unfolds. This book will leave an impact, inspiring readers to be open-minded and embrace their individuality.