StoryWalk® is back for summer 2023
February 20, 2023
The TD Summer Reading Club is pleased to announce the return of StoryWalk® for summer 2023, following another successful project last summer. A StoryWalk® is a fun, socially distanced activity that places a children's book, page by page, on laminated poster boards along a path or in a park. Kids and their families have the opportunity to enjoy reading a book while strolling through their community.
StoryWalk® is free and available to libraries across Canada that submitted their statistics and evaluation for the 2022 program to Maru/Blue (only applicable to returning libraries) and that have registered for the 2023 TD Summer Reading Club. The book that has been selected is Treasure, by Mireille Messier.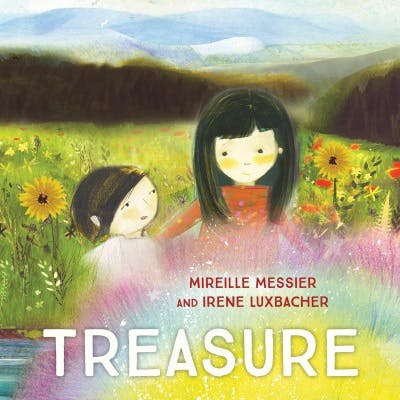 Details:
Our StoryWalk® book is available in English, French and bilingual formats.

StoryWalk® kits can be used by participating libraries for the summer of 2023, from June 12 to Labour Day.

Quantities are limited: 800 kits. We will try our best to accommodate everyone, but due to high demand, you may not receive as many kits as you request. Some branch-to-branch sharing may be necessary. We will let you know in advance if this is the case.

A Letter of Agreement is required, in which libraries agree to the licensing terms and conditions.

Treasure includes 18 pages and stands, with these dimensions:
- Stands are 21 inches (53.34 centimetres) high with 6-inch (15.24-centimetre) pegs for attaching the pages.
- Coroplast pages are 11-7/8 inches (30.16 centimetres) by 23-7/8 inches (60.64 centimetres).

Installation:
- Push the bottom of the stand into soft ground (like a tent peg).
- Insert a book page onto the metal pegs.
- Bend the pegs at an angle for easier viewing.
- If you do not have green space: tape the Coroplast book pages to outside walls.
Check out the StoryWalk® video from 2021 to see creative ways libraries displayed their kits. 
If you are interested in registering your library to receive a StoryWalk® kit, please send the Letter of Agreement to Ashley-Ann Brooks at clubtd-tdclub@bac-lac.gc.ca by March 13, 2023.