About the Artist and the Author
Clayton Hanmer

Clayton (aka CTON) is an illustrator whose energetic comic style is featured throughout dozens of online and print magazines. He illustrated several books for children, including the award-winning Not Your Typical Book about the Environment and the upcoming Dog vs. Ultra Dog (Owlkids Books, 2019).
He lives in Toronto, Canada, with his super awesome wife, amazing daughter and a weird cat named Graphite.
Jo Rioux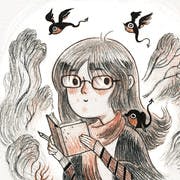 Jo Rioux is an Ottawa-born author and illustrator of children's books. Since graduating from Sheridan College in illustration, she has illustrated young adult books, chapter books and picture books, but her biggest passion is comic books. Her debut graphic novel, Cat's Cradle went on to win the 2013 Joe Shuster award for best comic for kids. 
She lives in the lush suburbs of her home town, where she spends her time drawing, reading and spinning tales of magic and monsters.