Plan for Accessibility
Content provided by: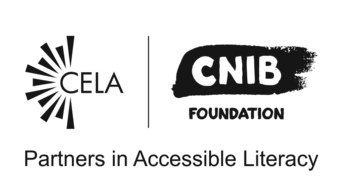 2020 Adapted Print Materials
Libraries will not receive print copies of adapted notebooks this summer due to the COVID-19 pandemic. These adapted print notebooks will be used in 2021 and adapted notebooks will also be available next year in audio, in braille, and online in accessible PDF and OpenDyslexic font formats.
How can my library virtually support kids with print disabilities?
Promote your library's e-collections
Update your website to include links to accessible format collections available to your clients through organizations such as CELA and NNELS
Make your videos accessible by adding captions and audio descriptions
o  Make your YouTube videos more accessible (AMI—Accessible Media Inc.)
o   W3C Web Accessibility Initiative
Describe any visual elements when doing storytimes, activities or crafts
Include crafts that involve multiple senses, such as touch and sound
Promote the Club with local organizations for people with print disabilities
Let schools know that your library offers downloadable audiobooks, ebooks and braille
Kids of all abilities
Your community includes children who don't read print due to physical, visual and learning disabilities. Learn more about print disabilities.
Not all print disabilities will be obvious and their effects vary. Children with print disabilities may not identify themselves to staff when they visit your library. That's why it's important to plan for accessibility. There are many books, Club materials and other resources that you can share with children with print disabilities so they can participate fully in the TD Summer Reading Club.
Books
Make sure kids with print disabilities know they have access to a broad selection of books. You probably have books that they may be able to read. Someone with low vision may be able to read a regular print book using a magnifier; someone with dyslexia may read a regular ebook using a text to speech reader. You may also offer formats specifically designed for accessibility such as DAISY audio or text, braille and printbraille picture books. Learn more about making reading accessible.
Depending on your location, your library may provide access to these books through the Centre for Equitable Library Access (CELA) or the National Network for Equitable Library Service (NNELS), or both. In Quebec, CELA service is offered through the Service québécois du livre adapté (SQLA). Please call SQLA at 1-866-410-0844 to register your eligible patrons.
CELA member libraries may download or borrow copies of books to have something for children to check out on the spot. Contact members@celalibrary.ca for more information.
Further Assistance
For more information about print disabilities, CELA and training opportunities available for public library staff, visit celalibrary.ca.