Print Elements of the Program
Program Materials

Notebooks
The 2018 notebooks include:
a welcome message and an introduction to the TD Summer Reading Club
space for children to place their web access code sticker
a summer program calendar where children can record their special dates, including library activities and personal events (birthdays, trips, etc.)
identification pages for children to draw or paste a picture and describe themselves
plenty of space to record items read and collect stickers
space for a child to state his or her reading goal for the summer
space on the book log pages to record the number of minutes read, or to indicate whether a book was liked or not, or whatever a child chooses
playful reading prompts to encourage all sorts of reading fun, which children can check off as they are completed
additional pages to record books to read during the rest of the year 
program certificate
Please note that there are two versions of the notebook—one for pre-readers (children ages 0–5) and their parents and caregivers, the other for children ages 6–12. The pre-reader version contains information for parents about reading readiness, and the text and reading prompts have been tweaked throughout, emphasizing the importance of reading together.
This item is bilingual. Both versions of the notebook are laid out in the "flipped" style, where English comprises one half and French the other.
Each child who joins the program receives an age-appropriate notebook at registration.
Kids with print disabilities may prefer the notebook content in audio, large print or braille. All libraries participating in TD Summer Reading Club will receive one English copy of each of the audio, large print, and braille notebooks by early May. Before the summer, these three accessible notebooks can be used in staff training to show that the Club is open to everyone. During the summer, you can hand out the accessible notebooks (one audio, one large print, one braille) that you received for training purposes to a family with a child with print disabilities. Centre for Equitable Library Access (CELA) member libraries may request additional English and French copies (while supplies last) by contacting members@celalibrary.ca.
Accessible Notebook - Large Print Text (.pdf) 
Accessible Notebook in Open Dyslexic Font (.pdf)
Accessible Notebook - Braille (.brf) 
Accessible Notebook - Audio (.mp3) 
The plan for accessibility section includes practical tips for ensuring your programs are accessible and inclusive for everyone, including kids with print disabilities.
Web Access Sticker
For the first time, the web code will be printed on a sticker that children can stick directly into their notebooks. Children will enter this access code on the TD Summer Reading Club website to create their online notebook, and store virtual stickers and books read. This access code will act as a login, eliminating the need for the child to provide personal information to set up an account.
This item is bilingual.
Each child who joins the program receives a web access code sticker at registration. Staff can help children identify the sticker page in the notebook.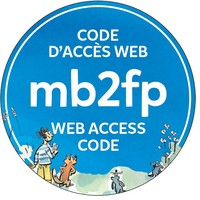 Stickers
There are 12 unique stickers on a perforated sheet. Stickers can be used as reading incentives, distributing one each time a child reports on an item read. However, flexibility is key! For example, if a family is unable to keep returning to the library to collect stickers over the summer, you may wish to distribute the entire sheet of stickers at registration for the parent or caregiver to administer.
All of the above print materials are free to children who register for the program.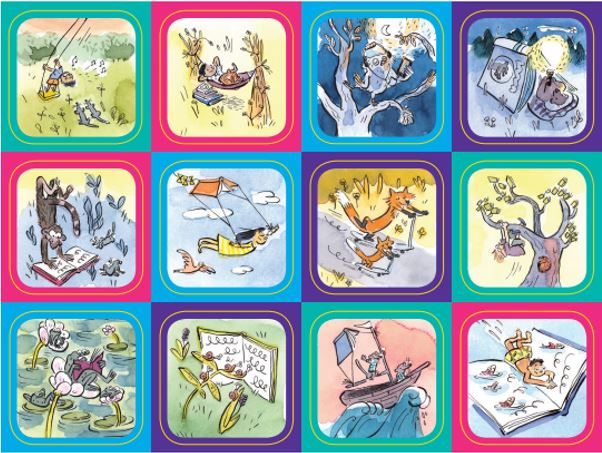 Promotional Materials
Fortune Teller
The fortune teller includes folding instructions, funny jokes, and encouragement to join the club.
This would be perfect to use as a promotional item before summer starts (e.g. distributed to children during class visits to your library or outreach visits you make in your community), to increase anticipation and excitement about joining the Club. 
Along with the pre-summer messaging about joining the Club, the playful nature of this item will make it fun for kids all summer long. Therefore, you may opt instead to give one to each child at registration. 
The English fortune teller contains four pre-set fortunes and four blank spaces where children can write in their own fortunes. The French fortune teller has eight pre-set fortunes.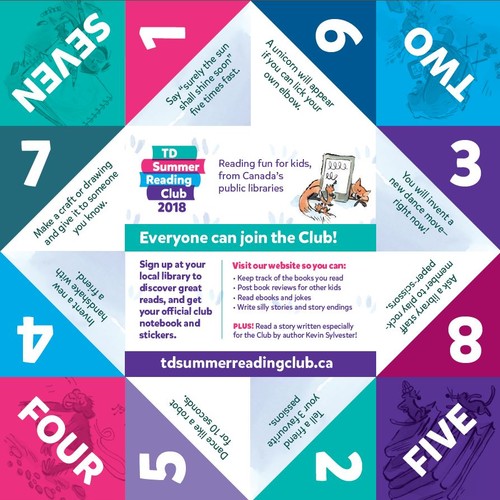 Top Recommended Reads
This brochure features the top recommended reads, and will also include information for parents (e.g. the importance of summer reading, how to participate, reading tips, TD SRC website info). This would be an ideal item to provide to schools for inclusion in year-end report cards, and you may also wish to make quantities available in your libraries as a tool for staff to use when describing the Club to parents and caregivers. There is blank space where you can add your library's information.
This item is bilingual.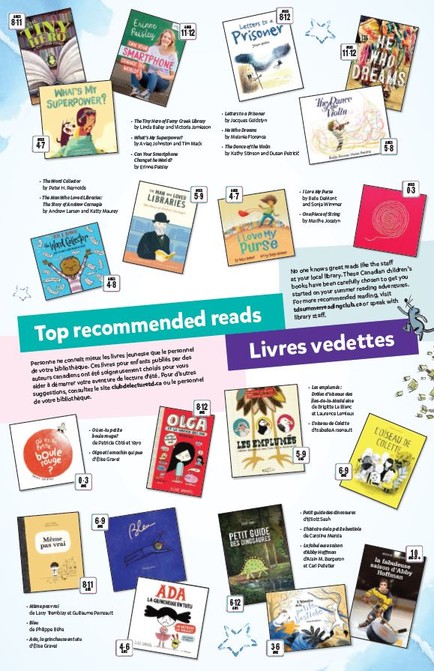 Poster
The 11 x 17 promotional posters may be displayed in your library or posted in your community to promote the Club. There is space at the bottom of the poster to add your library's information.
This item is bilingual (English on one side, French on the reverse).